Podcast: Play in new window | Download (Duration: 49:35 — 39.8MB) | Embed
Subscribe: Google Podcasts | Stitcher | TuneIn | RSS | More
people pleasing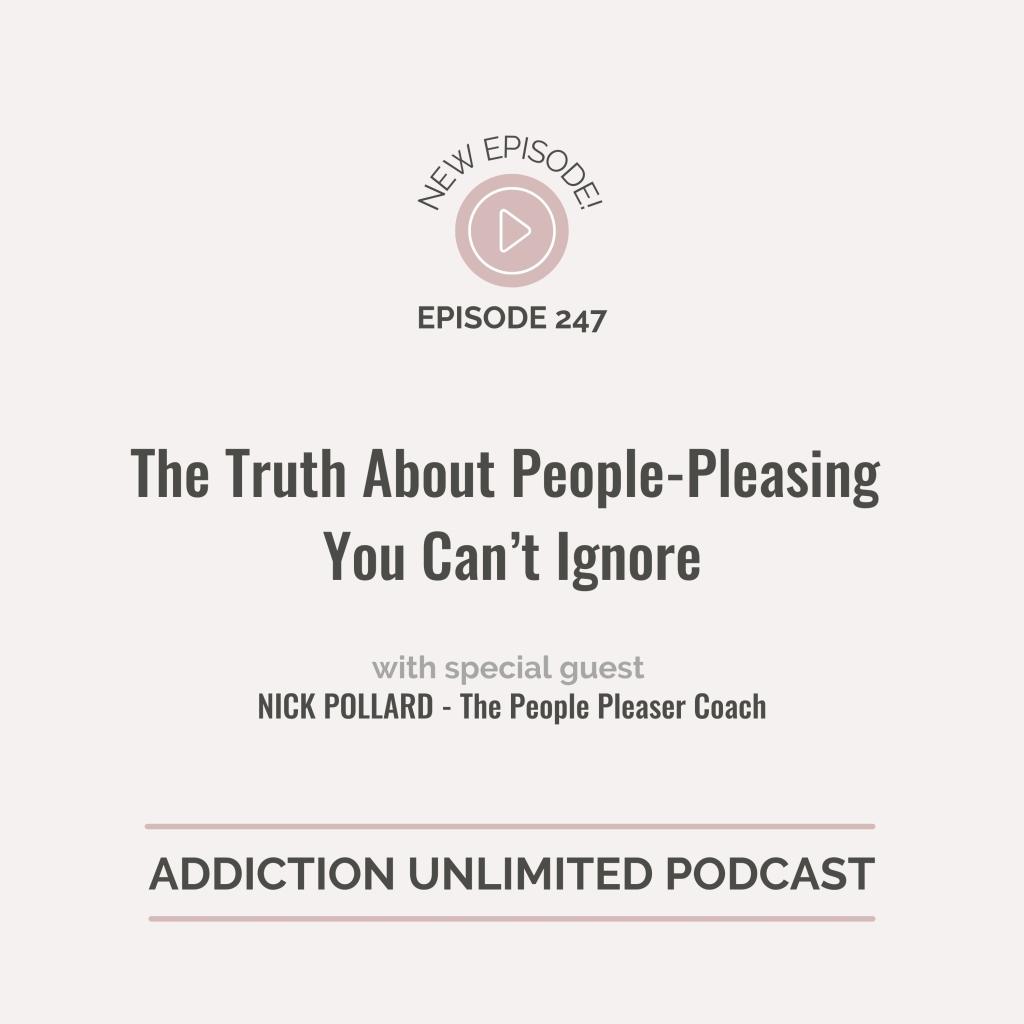 People pleasing is a common struggle for most people, especially those of us with addiction issues. The key is to not let those habits stop you from doing the work that you know you need to do. So what do you do when the fears of saying "no", or setting boundaries around your time and energy threaten to throw you off your game or derail you completely? You get guidance, take action, and learn to keep moving forward. And sometimes you need a little inspiration to keep you going.
In this episode, my friend Nick Pollard (TikTok phenom) and I are going to dig into the underlying fears and feelings people have that turn us into exhausted little people-pleasers. As a Coach, Nick's work is to pull back the curtain on the underlying issues we have to work on to create happier lives with more energy for our friends and families, and feeling more confident in the choices we make. Some of the very things you may be experiencing now may be obstacles, but they are not insurmountable.
This is my 15th year of being a Life Coach and Nick is in his 10th year! We've seen it all and have experienced ALL the fears ourselves (and still do!), so get your ear buds ready and listen in to the helpful insights Nick is sharing for you and your life!
You're going to learn some valuable tips and tricks that will help you navigate the fears that come with making changes in your life, cutting back the people-pleasing, and stepping into a better version of yourself.
Links mentioned in this episode: 
Dry January Kickstarter: A 30-Day Free Bootcamp: addictionunlimited.com/bootcamp
Facebook Group: https://www.facebook.com/groups/addictionunlimited
Book A Call With Angela: addictionunlimited.com/call
Rate, Review, & Follow on Apple Podcasts
"I love Angela & Addiction Unlimited Podcast." <– If that sounds like you, please consider rating and reviewing my show! This helps me support more people — just like you — to keep moving forward to the recovery lifestyle they want.  Click here, scroll to the bottom, tap to rate with five stars, and select "Write a Review." Then be sure to let me know what you loved most about the episode!