Podcast: Play in new window | Download (Duration: 46:27 — 42.7MB) | Embed
Subscribe: Google Podcasts | TuneIn | RSS | More
New Year Plan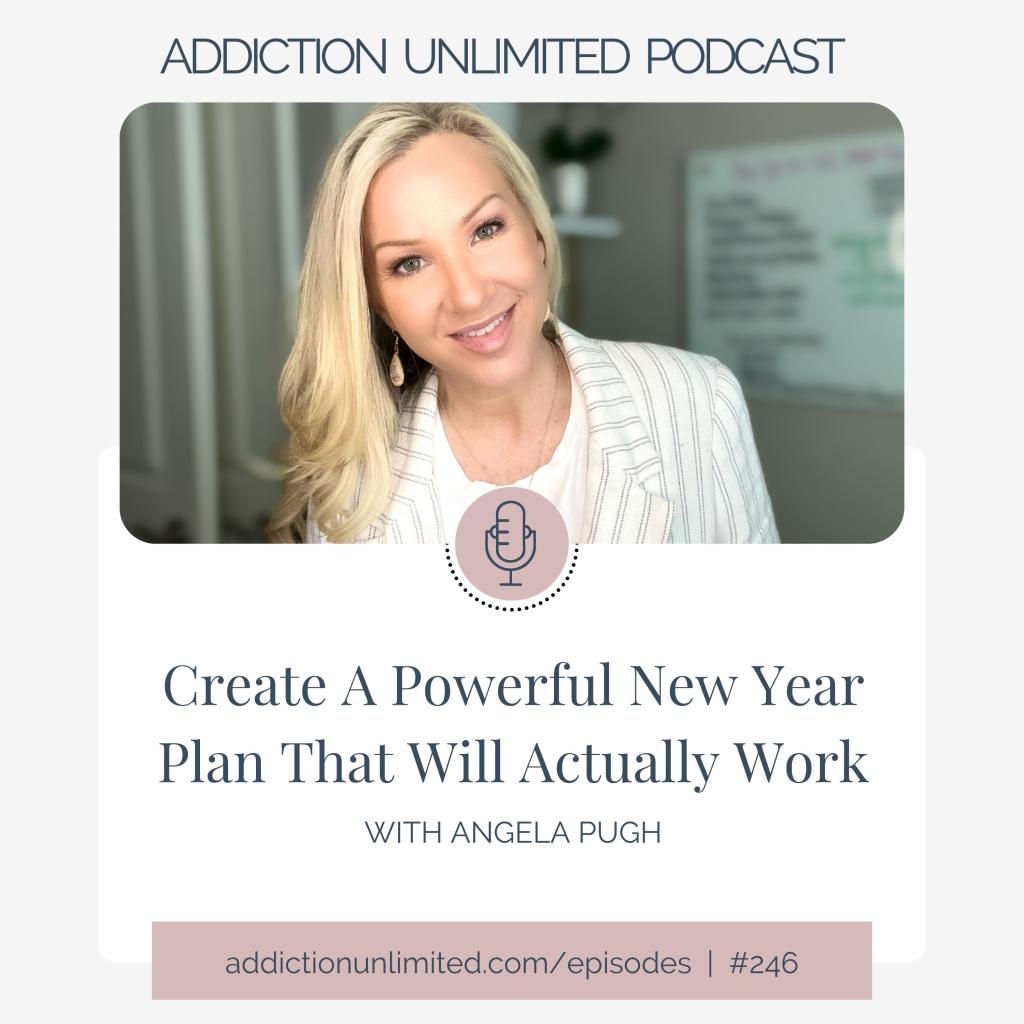 Can you believe 2022 is over already?
I know it's so cliché and everyone is saying it- but this year has gone by so fast!
Maybe you can relate. I know when a year is packed with as many projects, challenges, milestones reached and lessons learned as 2022 has been for me, it makes time fly by.
Some years ago I adopted a new way of thinking about it – instead of thinking about resolutions, as if something isn't right and needs to be resolved – I think about my intentions for the upcoming year. And because my sobriety birthday is in January, I have a tradition at the end of the year I always reflect back on what my life was like before I got sober.
Of course, that immediately puts me in a place of gratitude because I was such a mess in so many ways.
And, it gives me fresh inspiration on how I want to approach the coming year.
This year, I went through some major stuff. And, if we all get honest here, every year is full of major stuff.
So as I was reflecting on the past 12 months, I was writing down so many things that I had to turn it into a whole podcast episode for you.
Because, I want you to approach your next year with a fresh perspective and sense of determination like you've never had before. But also, a sense of ease. Like, we're going to make this so effortless, and you are going to feel so empowered, that you look forward to getting started and following through!
The strategy I'm going over today is all about a different way to approach your goals so that…
you will get more done
everything is set up for you to succeed with ease
you end the day feeling more satisfied with your whole life
In particular, if you want to build a life around recovery and confidence in whatever you do, this strategy will be really applicable for you.
It will help you get more done with less stress, less guilt, and less resources… you know, all the precious commodities we never have enough of.
I suggest curling up with the last Christmas cookie, stir a little eggnog creamer into your coffee, and enjoy a final moment of holiday hibernation to brainstorm your 2023 intentions.
In the end, your intentions are really all about your balance. Understanding we are working on personal growth and taking on new habits more than just accomplishing tasks. Adding too little will leave you underwhelmed and unsatisfied; adding too much is just way more stress than you need.
This episode is your personal low-down on how to think about your intentions, and how to set yourself up for success from day one so that you can get your life and your goals aligned for an amazing year!
Links mentioned in this episode: 
Dry January Kickstarter: A 30-Day Bootcamp with Angela Pugh:addictionunlimited.com/bootcamp
Facebook Group: https://www.facebook.com/groups/addictionunlimited
Book A Call With Angela: addictionunlimited.com/call
Rate, Review, & Follow on Apple Podcasts
"I love Angela & Addiction Unlimited Podcast." <– If that sounds like you, please consider rating and reviewing my show! This helps me support more people — just like you — to keep moving forward to the recovery lifestyle they want.  Click here, scroll to the bottom, tap to rate with five stars, and select "Write a Review." Then be sure to let me know what you loved most about the episode!