Podcast: Play in new window | Download (Duration: 55:23 — 47.1MB) | Embed
Subscribe: Google Podcasts | TuneIn | RSS | More
Betrayal Trauma –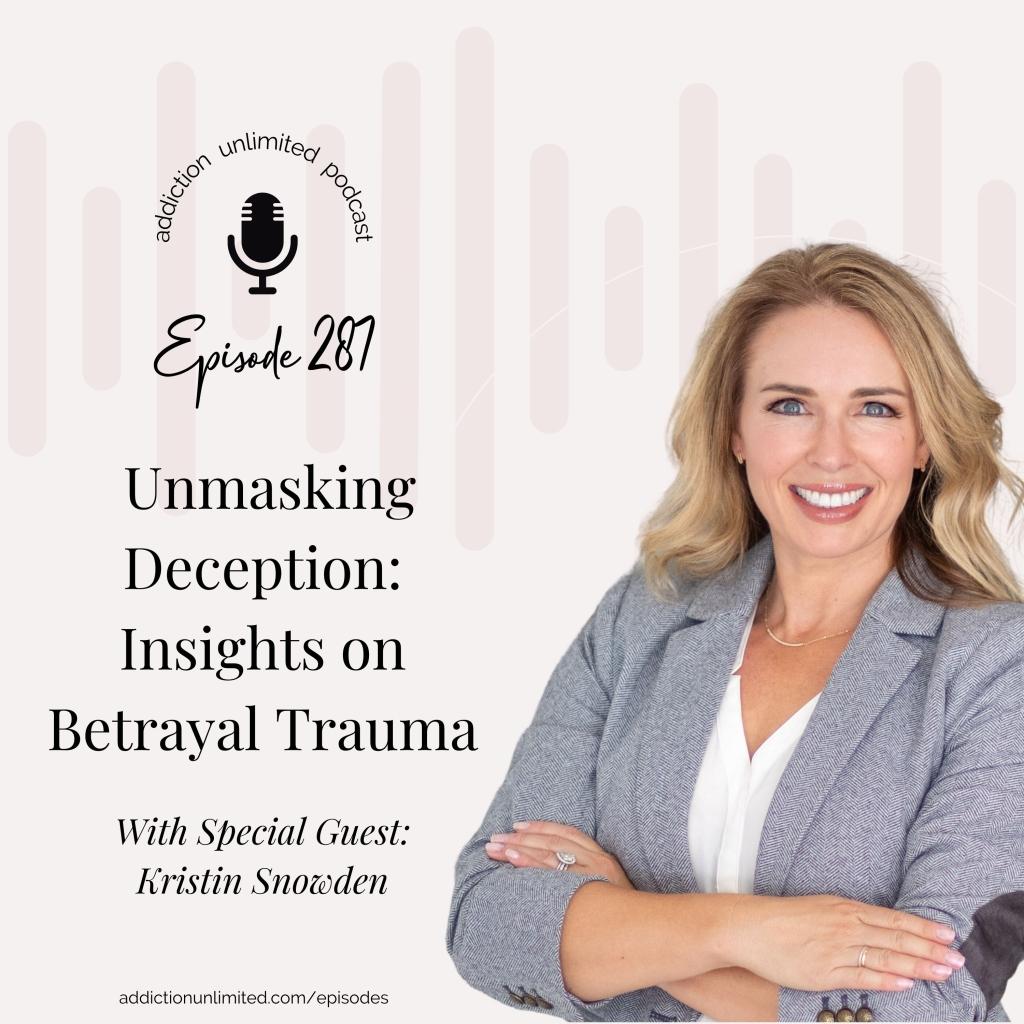 If a parent or romantic partner violates your trust, you may experience betrayal trauma.
Any betrayal can cause emotional distress and that trauma may affect your self-esteem, emotional health, and relationships with others.
Psychologist Jennifer Freyd first introduced betrayal trauma in 1991. She described it as a specific trauma that happens in key social relationships where the betrayed person needs to maintain a relationship with the betrayer for support or protection.
Most people with addiction struggles also have trauma and most people, in general, have some traumas. What is interesting in betrayal trauma is that we have it because of our parents and partners, but we also cause it in our active addiction.
Lying, deceiving, hiding details about life and addictions, these are all causes of betrayal trauma.
Kristin Snowden is a licensed Marriage & Family Therapist and one of her specialties is addiction recovery.
She's going to shed some light on betrayal trauma, what it looks like, and what to do about it.
Some interesting facts you'll hear about betrayal trauma are:
It can come from a parent or other childhood caregiver
it can come from a romantic partner
you may be willing to accept the betrayal for your sense of safety and security
The struggle is real, my friend! And this topic hits close to home.
We also touch on all the fears our partners experience when sobriety comes into our lives and how to change the disruptive stories you tell yourself about what will happen or how things will end.
This episode is full of lightbulb moments that will change how you view your relationships, and yourself.
Links mentioned in this episode: 
Facebook Group: https://www.facebook.com/groups/addictionunlimited
Book A Call With Angela: addictionunlimited.com/call
Kristin Snowden YouTube: https://www.youtube.com/c/KristinSnowden
Sober Retreat Bali 2024: addictionunlimited.com/bali
Rate, Review, & Follow on Apple Podcasts
"I love Angela & Addiction Unlimited Podcast." <– If that sounds like you, please consider rating and reviewing my show! This helps me support more people — just like you — to keep moving forward to the recovery lifestyle they want.  Click here, scroll to the bottom, tap to rate with five stars, and select "Write a Review." Then be sure to let me know what you loved most about the episode!