Podcast: Play in new window | Download (Duration: 26:52 — 24.6MB) | Embed
Subscribe: Google Podcasts | Stitcher | TuneIn | RSS | More
Mental Wellness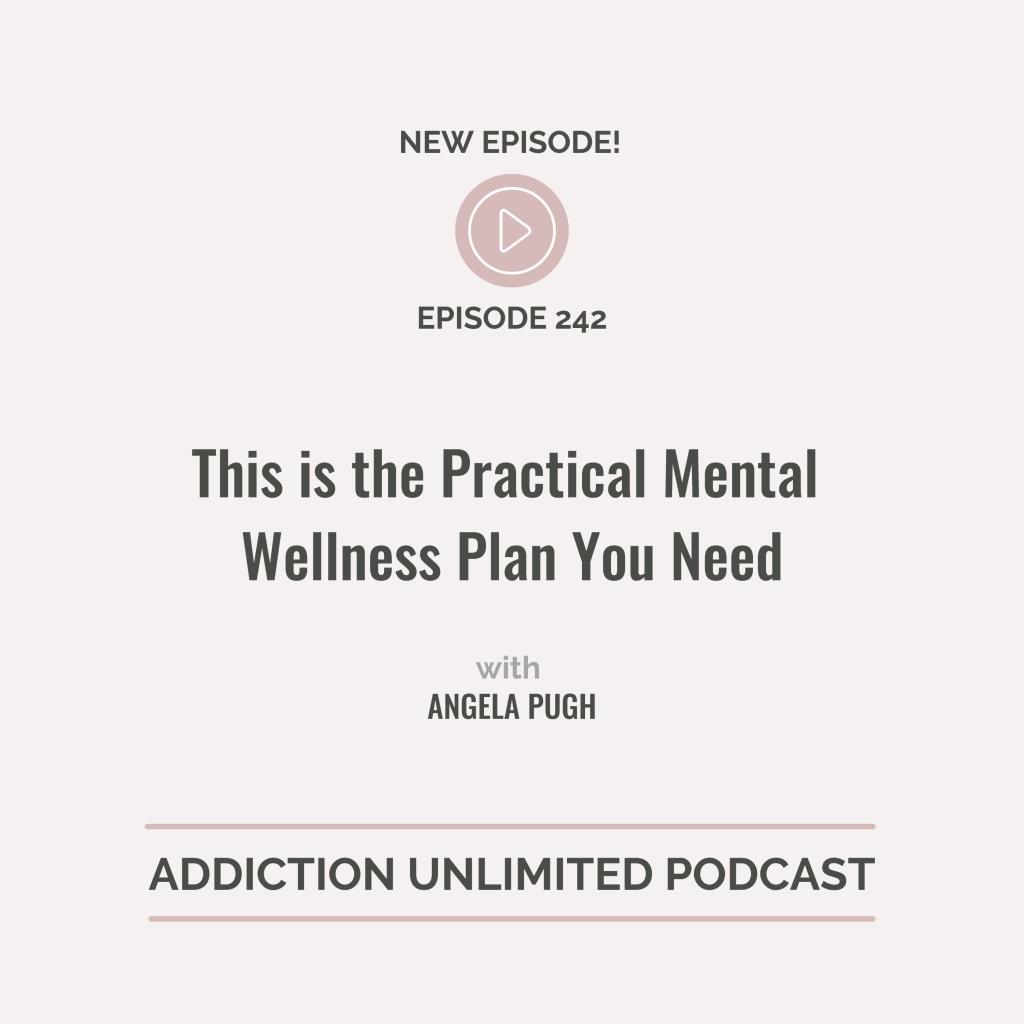 I wholeheartedly believe that mental wellness in recovery can be one of the best gifts you can give yourself. It gives you the freedom to design your life the way you want to and gives you the energy to do the things you love.
But as you have probably figured out, if you don't have the right plan in place, the stress of social and family events can really take a toll on you. Every day, recovering people are dealing with things like anxiety, loneliness, and burnout.
The statistics on relapse are alarming, and if I'll be straight with you… the numbers are far too high and hit a little close to home.
It's a goal of mine to bring more awareness and solutions to this issue that affects so many people. And that's why we're talking all about the actions, solutions, and tools you need to protect your recovery and continue to build on that happiness and comfort you're striving for in sobriety.
Especially when you are going into social and family situations that can push ALL your buttons and triggers.
You want fast and easy solutions and I've got them for you!
> No time commitment!
>> It's totally FREE!
>> And you can do it in your jammies!
In this episode I'll tell you exactly how to navigate every party, gathering, and anything else that makes your anxiety shoot through the roof.
AND some science-backed actions that will change your life.
Find balance between feeling vulnerable and being able to lean on your own instincts and plans when in stressful situations. Tap into your ability to feel joy, confidence, and acceptance when things don't go your way, versus fear and anger.  And how to navigate FOMO and loneliness and so much more!
I'm going to make the call — this episode is going to be a fan-fave. I hope you enjoy it as much as I do!
Links mentioned in this episode: 
Book A Call With Angela: addictionunlimited.com/call
Join the FB Group: facebook.com/groups/addictionunlimited
Rate, Review, & Follow on Apple Podcasts
"I love Angela & Addiction Unlimited Podcast!" <– If that sounds like you, please consider rating and reviewing my show! This helps me support more people — just like you — to keep moving forward to the recovery lifestyle they want.  Click here, scroll to the bottom, tap to rate with five stars, and select "Write a Review." Then be sure to let me know what you loved most about the episode!