Podcast: Play in new window | Download (Duration: 40:44 — 56.0MB) | Embed
Subscribe: Google Podcasts | TuneIn | RSS | More
Movies About Addiction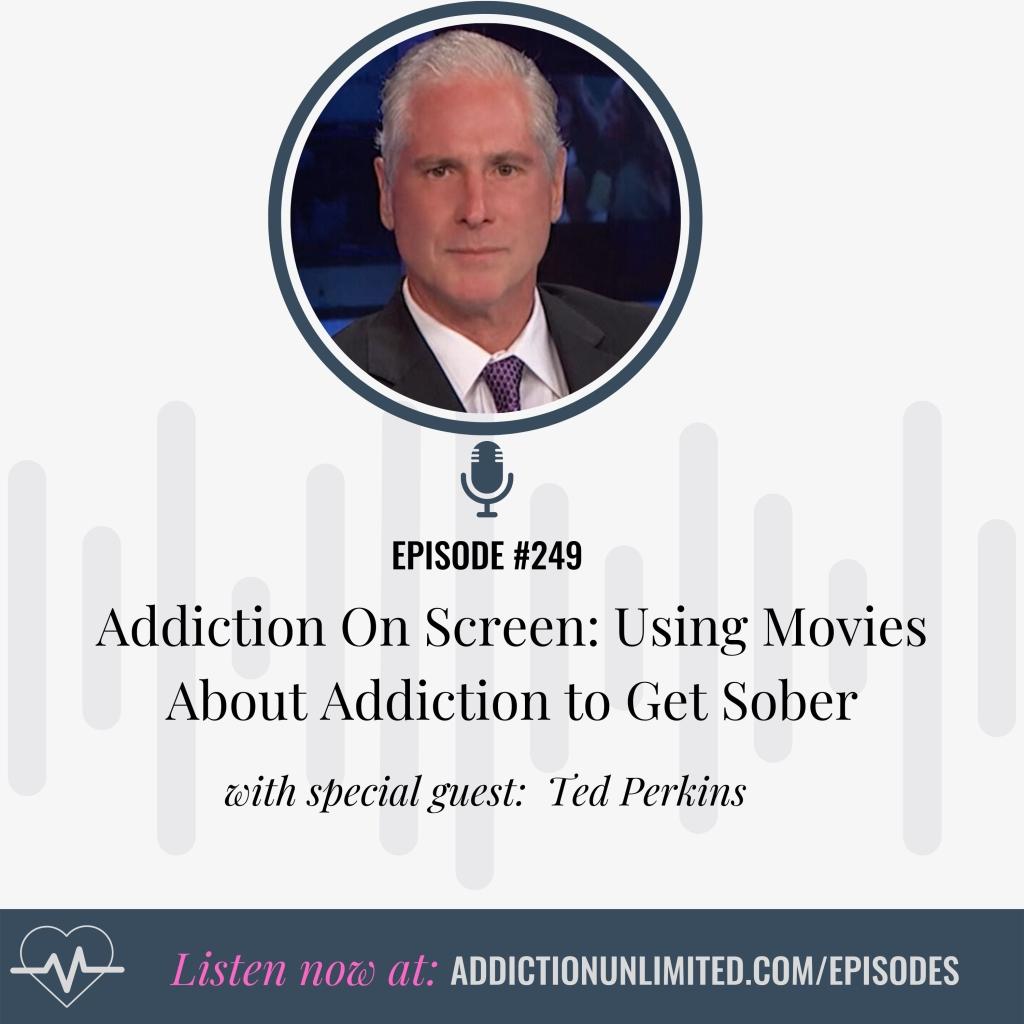 Today's episode is a little extra special.
The reason for that is that we're approaching this topic from a totally different angle.
We're not going to talk about programs. We're not talking about pitfalls, recovery plans, and another day 1. Not that we're not talking about any of it, but, we are going to talk about a totally different approach to quitting drinking that you've probably never thought of before.
Today, we are talking about movies about addiction. That might seem a little bit weird as a way to get sober, and, if you know anything about me you already know I'm a planner and like to have things laid out. So this completely unorthodox way of approaching recovery really intrigued me.
When my new friend, Ted Perkins, reached out to me about his book and wanted to talk about the connection between movies and addiction and how he used movies about addiction to get sober, I thought it was something I definitely wanted to explore.
Ted is a former Universal Pictures and Warner Bros. Studio executive, university lecturer, public speaker, Hollywood producer, and a successful screenwriter for film and television
He watched 100 movies in 100 days to beat his alcohol addiction and documented his journey in his new book, Addicted in Film, and he's here to tell you all about it! It's a behind-the-scenes look at the best (and worst) movies ever made about addiction and recovery, and what they can teach us about living a happier, healthier, more balanced life.
I like that Ted turned to what he knows and loves, and used it as his support to make huge changes and understand sobriety on a new level. This is the epitome of figuring out a plan that is individualized to you!
I also really value what he shares. It's different than how my brain works and that's sometimes uncomfortable and always exciting at the same time. I don't want to give it all away. I am going to let you listen in and see if this is something you might want to take action on. I know I definitely will be.
Links mentioned in this episode: 
Dry January Kickstarter: A 30-Day Free Bootcamp: addictionunlimited.com/bootcamp
Addicted in Film Book:  https://amzn.to/3HGG6GZ
Facebook Group: https://www.facebook.com/groups/addictionunlimited
Book A Call With Angela: addictionunlimited.com/call
Rate, Review, & Follow on Apple Podcasts
"I love Angela & Addiction Unlimited Podcast." <– If that sounds like you, please consider rating and reviewing my show! This helps me support more people — just like you — to keep moving forward to the recovery lifestyle they want.  Click here, scroll to the bottom, tap to rate with five stars, and select "Write a Review." Then be sure to let me know what you loved most about the episode!