Podcast: Play in new window | Download (Duration: 32:50 — 30.3MB) | Embed
Subscribe: Google Podcasts | Stitcher | TuneIn | RSS | More
Healthy Routines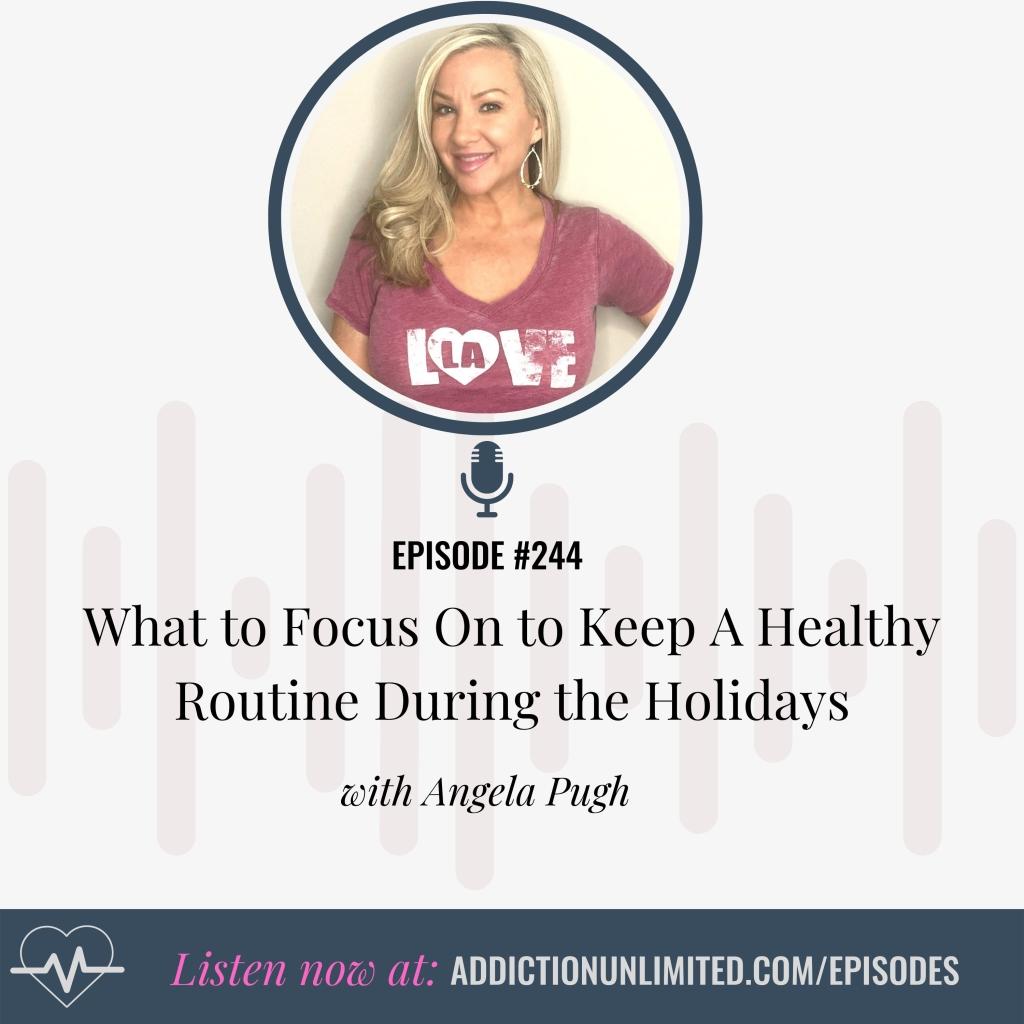 When you're going into a stressful time of year your healthy routines get off balance, there are tons of things to do, and stressors lurking around every corner.
And if you don't know what to do, that lack of clarity can you lead you down the path of overwhelm and high anxiety. That's why I recorded today's episode. To take away your stress and make this process a lot easier for you.
I'm breaking down a few fundamental steps to focus on when your rituals and routines are thrown off balance in the holiday season with travel, family, and all the added financial and time stressors. Whether you're just getting started, or you have decades of sobriety under your belt. These are absolutely crucial for a successful and sober holiday season (or any high-stress situation!).
Are you a successfully substance-free and getting through stressors with ease? Don't click away because this episode is for you, too. I not only focus on these steps for the holidays, but I still practice this today whenever I travel or have any disruption in my routines and rituals.
Here's a snapshot of what I'm focusing on in today's episode:
–> action steps to keep your sobriety in tact
–> strategies you can use RIGHT NOW
–> a step-by-step plan to set you up for sober success
I don't want you to feel like you are walking into a high-stress situation completely unprepared so I'm going to walk you through what to focus on so you are happy, healthy, and staying sober even when your routines and rituals are turned upside down.
Links mentioned in this episode: 
Facebook Group: https://www.facebook.com/groups/addictionunlimited
Book A Call With Angela: addictionunlimited.com/call
Rate, Review, & Follow on Apple Podcasts
"I love Angela & Addiction Unlimited Podcast." <– If that sounds like you, please consider rating and reviewing my show! This helps me support more people — just like you — to keep moving forward to the recovery lifestyle they want.  Click here, scroll to the bottom, tap to rate with five stars, and select "Write a Review." Then be sure to let me know what you loved most about the episode!