Podcast: Play in new window | Download (Duration: 22:59 — 20.8MB) | Embed
Subscribe: Google Podcasts | TuneIn | RSS | More
Finding Passion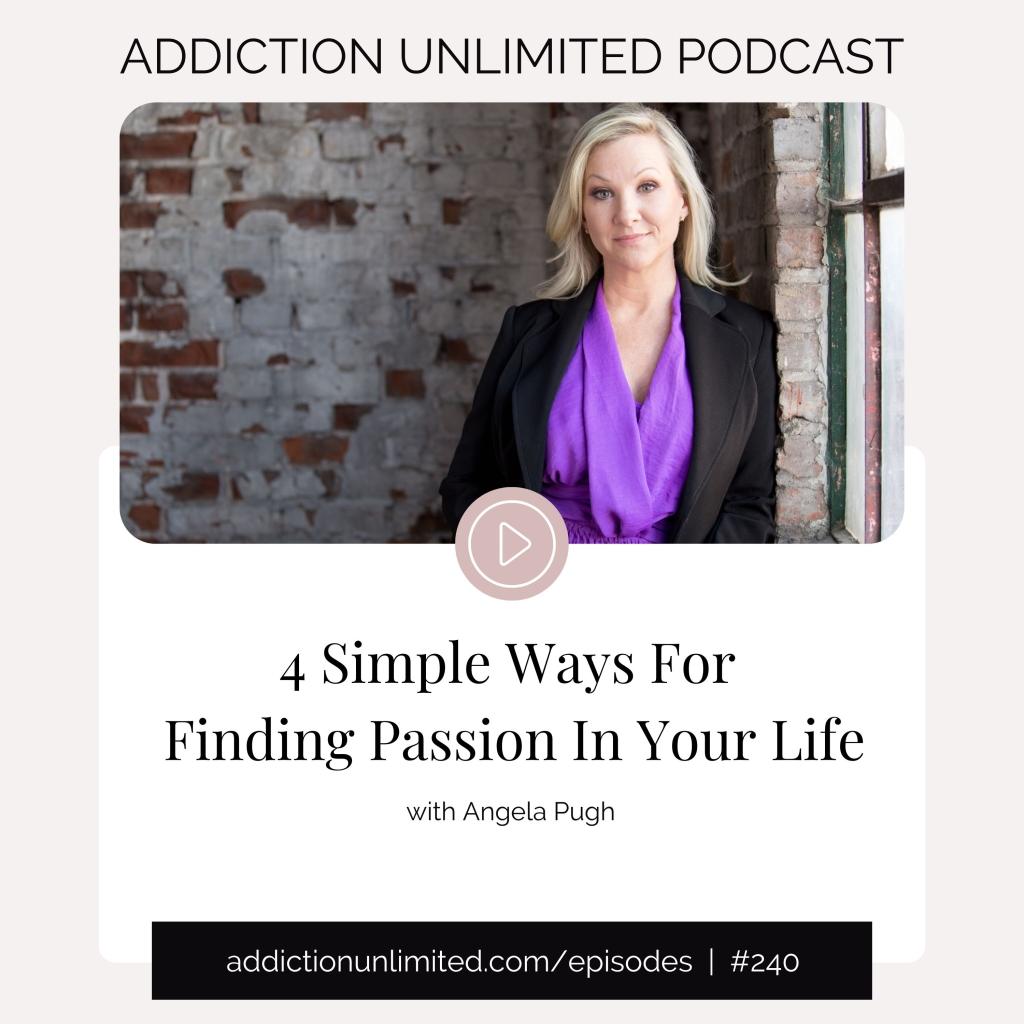 If you find yourself doing busy work because you don't know what else to do, or feel like you are at a total loss when it comes to knowing yourself and your hobbies, it's time to start finding passion in your life.
Imagine this: You get out of bed early feeling refreshed and ready for your weekend. You love to spend time with your kids and make their favorite pancakes for breakfast, and you can't wait to get some time for yourself to do the things you love. You know your happy place, you love your hobbies, and you feel excited to get there!
Having activities you enjoy in your life is important! And, as much as we enjoy being workaholics, parents and partners, there has to be more to your life than just work and family.
Studies show that taking part in fun and leisure activities improves your overall health, but when you get lost in addiction you often lose sight of yourself and the things you once loved.
What are you passionate about?
What activities do you enjoy on your day off?
If you don't take action to find what you love to do then you will always look for substances or food or shopping to fill that void. And none of those things will serve you well.
Instead of feeling overwhelmed or confused, let's talk about some actionable steps you can take to find your self again.
In this episode you'll get:
💥 Easy actions to find the self you've lost
💥 A gameplan to curb the overwhelm and get clarity on what makes you happy
💥 And a quick note on all the ways your life is going to improve!
Links mentioned in this episode: 
Facebook Group: https://www.facebook.com/groups/addictionunlimited
Book A Call With Angela: addictionunlimited.com/call 
Research Article: 
Rate, Review, & Follow on Apple Podcasts
"I love Angela & Addiction Unlimited Podcast." <– If that sounds like you, please consider rating and reviewing my show! This helps me support more people — just like you — to keep moving forward to the recovery lifestyle they want.  Click here, scroll to the bottom, tap to rate with five stars, and select "Write a Review." Then be sure to let me know what you loved most about the episode!